Coronavirus Update
Under Level 2 we are now able to commence lessons, with a number of precautions and restrictions in place.  We are looking forward to being able to teach driving again.  Please refer to the Noticeboard page on this website for information on the precautions that we will be taking during these lessons.
Under Level 2, we will also be able to conduct Defensive Driving courses.  Our next course is scheduled to commence on the delayed date of Wednesday 27 May.  Please refer to our Defensive Driving page for full information on this course.  This course will be conducted under Level 2 restrictions, which require social spacing, resulting in a reduced capacity for the course.
Quality Driving Tuition
Creating competent and confident drivers
Waimack Driving School Ltd was established in 1999 with the aim of providing high quality driving instruction in an enjoyable and structured way, using good quality vehicles equipped with dual controls.
Instructor Information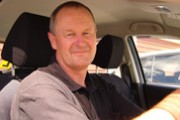 Alastair McKenzie
Alastair has had 45 years of driving experience and has always enjoyed and had an interest in driving. He relates well with people of all ages and backgrounds.